Products
Honeycomb Paper Boards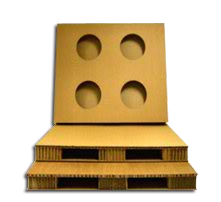 Honeycomb cardboard is manufactured according to honeycomb structure principle. The semi-chemical corrugated papers are conglutinated by glue water into numerous hollow stereo regular hexagons, forming an integral pressure article—paper core, of which the new environmental protection & energy saving material of sandwich structure— honeycomb cardboard is formed through conglutination of tissues in the two sides. The main characteristics of honeycomb cardboard are as follows:
Light, low consumption for material, light in weight.
Not easy to deform, the honeycomb sandwich structure is similar to isotropy with high intensity and flat surface. Its outstanding pressure resistance and bending resistance are the most important properties that case packaging materials require.
Good shock resistance and cushioning performance. Honeycomb cardboard is made of flexible paper cores and tissues with favorable toughness and rebound elasticity. The unique honeycomb sandwich structure provides excellent cushioning performance. It is endowed with high unit volume energy absorption value. Honeycomb cardboard with high thickness can be used as a substitute for EPS plastic foam cushion used popularly now.
Pollution free in accordance with modern environmental protection requirement. All honeycomb cardboard are made of recyclable papers, 100% recycled after use.
Honey cardboard is an environmental paper packaging material with high strength, light weight and wide application popular in recent years. Thicknesses from 1cm to 5cm are available. It can be applied to various packing boxes, pads, furniture, floors, car inner decorations, canopy boards etc.. Heat& sound insulative, light, low in price, it can be used as a substitute for wood, plastic etc. in many occasions.