Products
Silica Gel Packets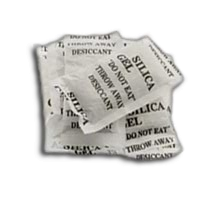 Silica gel is a granular, vitreous, porous form of silica made synthetically from sodium silicate. Despite its name, silica gel is a solid. It is a naturally occurring mineral that is purified and processed into either granular or beaded form. As a desiccant, it has an average pore size of 2.4 nanometers and has a strong affinity for water molecules.
Silica gel is most commonly encountered in everyday life as beads packed in a vapor-permeable plastic. In this form, it is used as a desiccant to control local humidity in order to avoid spoilage or degradation of some goods. Because of poisonous dopants and their very high absorption of moisture, silica gel packets usually bear warnings for the user not to eat the contents.
Silica gel is also used in Chemistry in chromatography as a stationary phase.
Silica gel is irritating to the respiratory tract and may cause irritation of the digestive tract, and dust from the beads may cause irritation to the skin and eyes, so precautions should be taken.