Products
PET Strap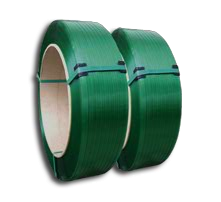 Polyethylene (PET) Strap, is used for unitization of multiple products. It is made by polyethylene terephithala material, a substitute of steel strap. These PP pet straps are available with requisite density with excellent tensile and welding strength. These materials do not react with chemical or moisture and ensure safety to heavy packages.
These straps are better than steel straps in terms of Economy, Strength, Shock resistance, Corrosiveness, Convenience, Weight, Safety, Colors etc.,
Usage of PET straps is increasing day by day by all kinds of industries for the bulk storage and safe transport of goods.